Introducing
The High School Program
Our high school provides one of the most personalized programs anywhere. It combines ongoing Socratic and personal growth conversations and one-on-one coaching with increasingly sophisticated personal projects and entrepreneurial ventures based on the student's interests. With streamlined graduation requirements, students can take courses which are both interesting and relevant to their post-high school plans rather than being forced into a one-size-fits-all-school program. We provide the best of community and individual choice.
Preparing students
for the 21st century
PERSONAL PROJECTS: Students learn to develop meaningful personal projects based on their interests.
PERSONAL DEVELOPM

ENT

:

Students learn to be a happier, more successful person through daily conversations on purpose, goals, and life.
SOCRATIC PRACTICE: Students analyze classical texts and their ideas through reason-based dialogue.
HEALTHY RELATIONSHIPS: Students are supported in a carefully-crafted, positive peer environment.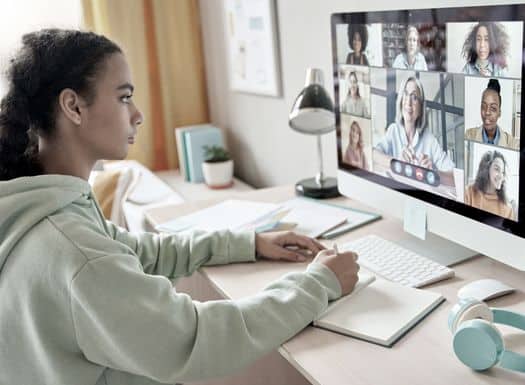 SCHEDULE



A typical day for a high school student

Community
An informal guide-led conversation that is wide-ranging and may include discussions on books, movies, games, current events, local customs and culture, etc. The idea is to start the day socially, much as they would at an in-person school, with an opportunity to simply be themselves.

Personal Growth
Each day the guide sets a topic, it may be big picture issues, such as how to set goals, how to learn from failure, how to build something meaningful, etc. Alternatively, the topic may be more personal, such as how to deal with emotions, how to adapt to new cultures and environments, or how to deal with living in a new country. The goal is to provide an opportunity to discuss how to live a better, happier, more successful life.

Socratic
A discussion about a complex text in literature, philosophy, or social thought. The conversation is a balance of discussing important issues in life and analyzing sophisticated texts, similar to the work required by the SAT verbal exam. The students develop a deep understanding of key concepts in the humanities.

Writing
Students work on essay topics of their own choosing based on the intellectual dialogues they've just completed in their Socratic discussion. They are coached by guides and through peer groups on high-level issues such as organization and the use of evidence. Students learn to organize their thoughts and write well-thought-out essays.

Lunch
Students have an hour off each day for lunch. They are encouraged to get off the computer and engage in some movement.

Projects
Each student is expected to do a personal project based on their own interests. The expectation is that they develop a deep understanding of the subject. They are coached on how to move from an interest, to an idea, to an impressive project by their guide, through peer feedback, and through the topics covered in Personal Growth.

Math
Students work through a self-paced adaptive math curriculum suitable to their level and ability. They set an annual math goal with their guide and are coached on how to meet monthly and weekly targets for math progress. On alternate days, the class works on mathematical problem-solving in group sessions designed to develop their ability to work through difficult and unfamiliar problems.

Science
Students take science courses appropriate to their interests and ability levels. Students typically choose between courses offered within our program or external courses if their interests are more specialized (for example, human health optimization or biochemistry). Guides support students in selecting and working through internal or external courses as needed.

Foreign Language
Students have the option of taking a second language. Our language development program is based on modern language acquisition methods and storytelling developed by internationally celebrated polyglots.

History
Students may take the history courses of their choice, including Local History of their host country, World History, U.S. History, and other more specialized history courses available externally. Our history courses include an appreciation for the institutions that led to modern human rights and prosperity, including rationality, science, innovation, entrepreneurship, liberty, and the ideas that support natural law.