OUR
MIDDLE SCHOOL

PROGRAM
Creative and critical thinking skills for a superior understanding of the world
OUR
MIDDLE SCHOOL

PROGRAM
Creative and critical thinking skills for a superior understanding of the world
Introducing
The Middle School Program
Our middle school addresses the essential needs of children in this highly sensitive transitional phase of development. Students integrate Socratic dialogue texts with conversations and one-on-one coaching on personal growth. Our STEM program allows for radical personalization along with group problem-solving experiences that engage curiosity while developing thinking skills needed for superior SAT performance in high school. Our Wednesday program combines art, music, and tech experiences to complement our academic core.
Preparing students
for the 21st century
PERSONAL PROJECTS: Students learn to develop meaningful personal projects based on their interests.
PERSONAL DEVELOPMENT: Students learn to be a happier, more successful person through daily conversations on purpose, goals, and life.
SOCRATIC PRACTICE: Students analyze classical texts and their ideas through reason-based dialogue.
HEALTHY RELATIONSHIPS: Students are supported in a carefully-crafted, positive peer environment.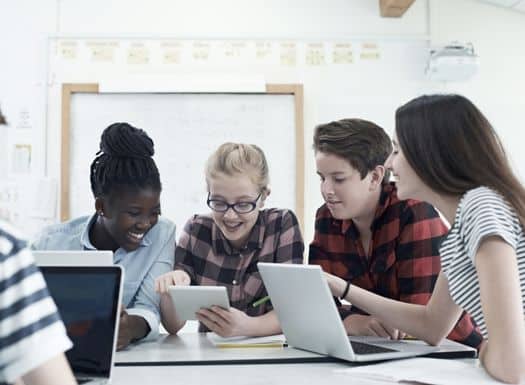 SCHEDULE



A typical day for a middle school student

Community
An informal guide-led conversation that is wide-ranging and may include discussions on books, movies, games, current events, local customs and culture, etc. The idea is to start the day socially, much as they would at an in-person school, with an opportunity to simply be themselves.

Socratic
A discussion about a complex text in literature, philosophy, or social thought. The conversation is a balance of discussing important issues in life and analyzing sophisticated texts, similar to the work required by the SAT verbal exam. The students develop a deep understanding of key concepts in the humanities.

Writing
Students work on essay topics of their own choosing based on the intellectual dialogue they've just completed in their Socratic discussion. They are coached by guides and through peer coaching on high-level issues such as organization and the use of evidence. They use software to refine their grammar, punctuation, usage, etc.

Projects
Each student is expected to do a personal project based on their own interests. The expectation is that they develop a deep understanding of the subject. They are coached on how to move from an interest, to an idea, to an impressive project by their guide, through peer feedback, and through the topics covered in Personal Growth.

Lunch
Students have an hour for lunch every day and are encouraged to get off the computer and get some movement.

Math
Students work through a self-paced adaptive math curriculum suitable to their level and ability. They set an annual math goal with their guide and are coached on how to meet monthly and weekly targets for math progress.

Science
Students work through the Quantum Camp science curriculum, which combines hands-on experiments with an analysis of key concepts in middle school science such as mass, force, gravity, energy, molecular bonds, etc. Once per week the students engage in a Socratic discussion on related topics to develop a deeper understanding.

Foreign Language
Students have the option of taking a second language. Our language development program is based on modern language acquisition methods and storytelling developed by internationally celebrated polyglots.

Personal Growth
Each day the guide sets a topic, it may be big picture issues, such as how to set goals, how to learn from failure, how to build something meaningful, etc. Alternatively, the topic may be more personal, such as how to deal with emotions, how to adapt to new cultures and environments, or how to deal with living in a new country. The goal is to provide an opportunity to discuss how to live a better, happier, more successful life.

Wednesdays
On Wednesdays, students learn "New Economy" job skills through our partner Nobel Explorers, including coding, web development, data analysis, blockchain technology, etc. They also have an art class that includes drawing, animation, and graphic design. They have the option of taking a music class featuring world music appreciation, musical performance, and music theory.
Let's have a conversation
Schedule a conversation with our team by selecting a date and time from the calendar.